Quantitative flow ratio (AngioPlus, Pulse Medical, Shanghai, China) – a non-invasive strategy to estimate fractional flow reserve (FFR)  – not only improved clinical outcomes, but saved costs over 1 year versus standard FFR for patients in the FAVOR III China trial.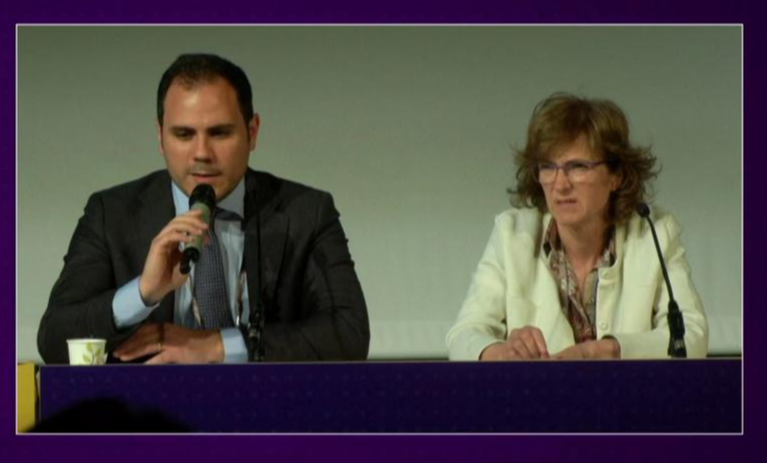 The findings were presented in a Tuesday late breaking session at EuroPCR 2022 in Paris by MBBS, from the China National Center for Cardiovascular Diseases.
Whereas FFR is an invasive procedure involving pressure-wire manipulation – which, therefore, carries some procedural risk – μFR is a novel approach that estimates FFR through angiography.
Previously, the FAVOR III China trial – in 3,830 adult coronary artery disease (CAD) patients  randomized in a 1:1 fashion to μFR or FFR across 26 Chinese centers – found that lesion selection using μFR improved 1-year clinical outcomes compared with the standard angiography guidance.
However, the additional costs associated with the routine measurement of μFR were unknown, as were the long-term quality-of-life effects of the two strategies.
The researchers, therefore, conducted the current analysis of patients in the FAVOR China III trial, investigating the pre-specified economic and health relayed quality-of-life outcomes (HRQOL) of the study, "simulating charges of the healthcare system reform in China or using the economic data from the contemporary European healthcare system."
Direct medical costs included those of the index procedure/hospitalization, cost of medication, and cost of major adverse cardiac and cerebrovascular events (MACCE) including non-procedural myocardial infarction, any revascularization, stent thrombosis and cerebrovascular and major bleeding events derived during 1-year follow-up.
Changes in quality-adjusted life years (QALY) – a much-utilized health economics measure of the number of quality years of life afforded to a patient by an intervention – were assessed based on the European Quality of Life-5 Dimensions (EQ-5D) health survey at baseline, discharge and 1, 6 and 12 months.
In the FAVOR III China trial, all patients had at least one lesion with a percent diameter stenosis between 50% and 90% in a coronary artery with a ≥2.5 mm reference vessel diameter by visual assessment. Those with moderate or severe chronic kidney disease (creatinine >150 μmol/L or estimated glomerular filtration rate <45 ml/kg/1.73 m2) were excluded.
One-year follow-up was completed for around 99% of the patients.
The current analysis found that the μFR group was associated with a significantly lower total cost than the angiography-guided patients, with a difference of 1,977 Chinese yuan renminbi (RMB), currently equivalent to around $293 (95% confidence interval [CI]: -3744 to -209.7; P = 0.03).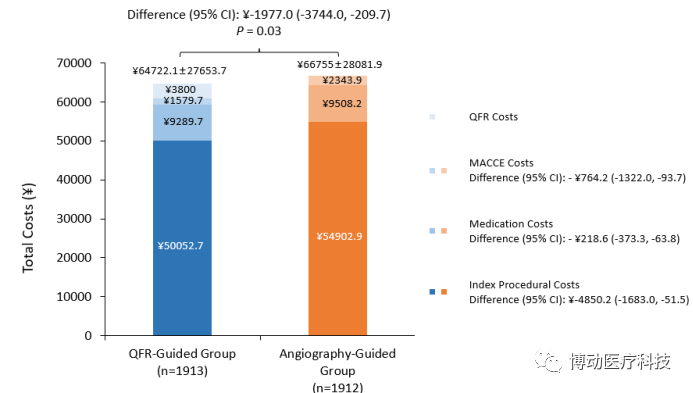 The cost was also lower for each cost component; by 1,050 RMB (approximately $155.50) for the index procedure compared to the angiography-guided group, 707.9 RMB (approximately $104.81) for MACCE costs and 218.6 RMB (approximately $32) for medication.
Xu highlighted the fact that both the μFR and angiography-guided treatment strategies significantly improved EQ-5D health scores from baseline to 1 year (both P for trend <0.0001), but that there was no significant differences between the groups for this score at any time point.
A sensitivity analysis including a Japanese population time balance conversion formula led to similar results. "The 'bootstrap' simulation demonstrated that μFR-guided strategy is also similar with respect to clinical outcome in 95.6% of 1,000 bootstrap simulation samples," Xu added.
However, a further sensitivity analysis accounting for costs after recent Chinese healthcare reform show that, although index procedure cost was not significantly different (P = 0.28), the total cost at 1 year was significantly lower in the μFR group vs. the angio group, "with a mean difference of 1,656 RMB" (95% CI: 3141 to -169.8; P = 0.03).
Meanwhile, the researchers also used prices from the FLOWER-MI trial based on the European healthcare system, including fee per stent, cost of hospital stay, and percutaneous coronary intervention (PCI) cost per minute or cost of clinical events.
Although the index procedural cost was statistically higher in the μFR group (by 1,072.3 RMB; P = 0.03), an incremental cost effectiveness ratio (ICER) evaluation was performed – a measure of the overall economic value of two or more interventions – which showed μFR to be "good value for the added costs with an ICER of 288 RMB per MACCE."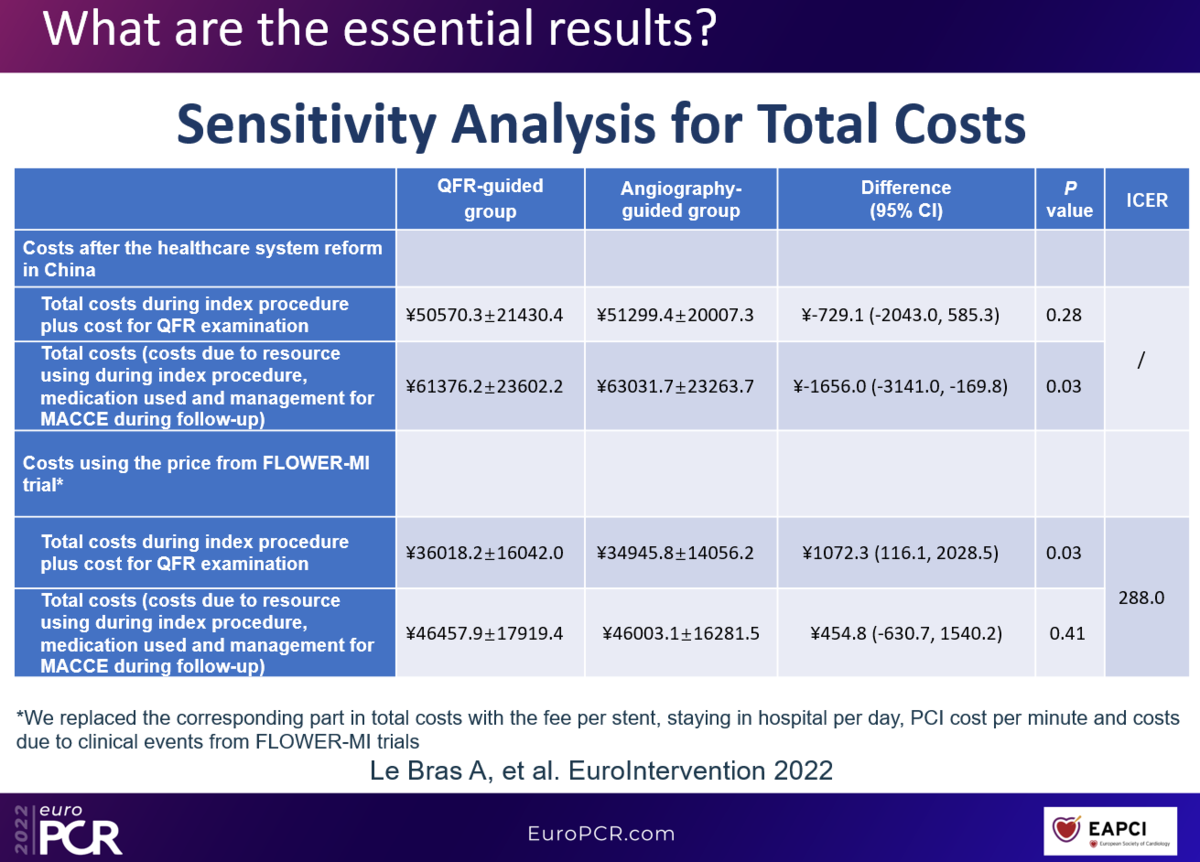 Xu concluded that: "μFR-guided strategy was proven to be associated with both improved clinical outcomes and cost saving; findings were consistent in sensitivity analysis performed by simulating charges after healthcare system reform in China."
He continued: "This is the first large-scale, multicenter, randomized trial to evaluate the economic and HRQOL outcomes for μFR-guided PCI strategy versus standard angiographic guidance."
Xu added: "The present study supported the advantage of μFR-guided PCI compared with standard angiography guidance".
Speaking from the panel at Xu's presentation, Giuseppe Di Gioia, MD, from Montevergine Clinic, Mercogliano, Italy, agreed that μFR does not represent an added cost to the procedure, adding: "We are free to choose to perform it without weighing too much on the healthcare system."
However, Xu stressed that collaboration with European and American colleagues is vital to understand how these results can impact future clinical practice.