Image from NMPA official website 
November 10th 2021, News from Shanghai, China. 
China National Medical Products Administration (NMPA) released a news that OFR® (OctPlus), the innovative product from Shanghai Pulse Medical Technology Inc. (Pulse), was approved as the Class III medical device, meaning the first OCT based FFR solution has been commercialized and could be used for clinical diagnosis in China.  
OFR® is the first commercialized intracoronary OCT-based computational physiological product (OCT-based wire-free FFR) worldwide. Prior to the NMPA approval, the Pulse's OFR® has received CE mark in April,2020.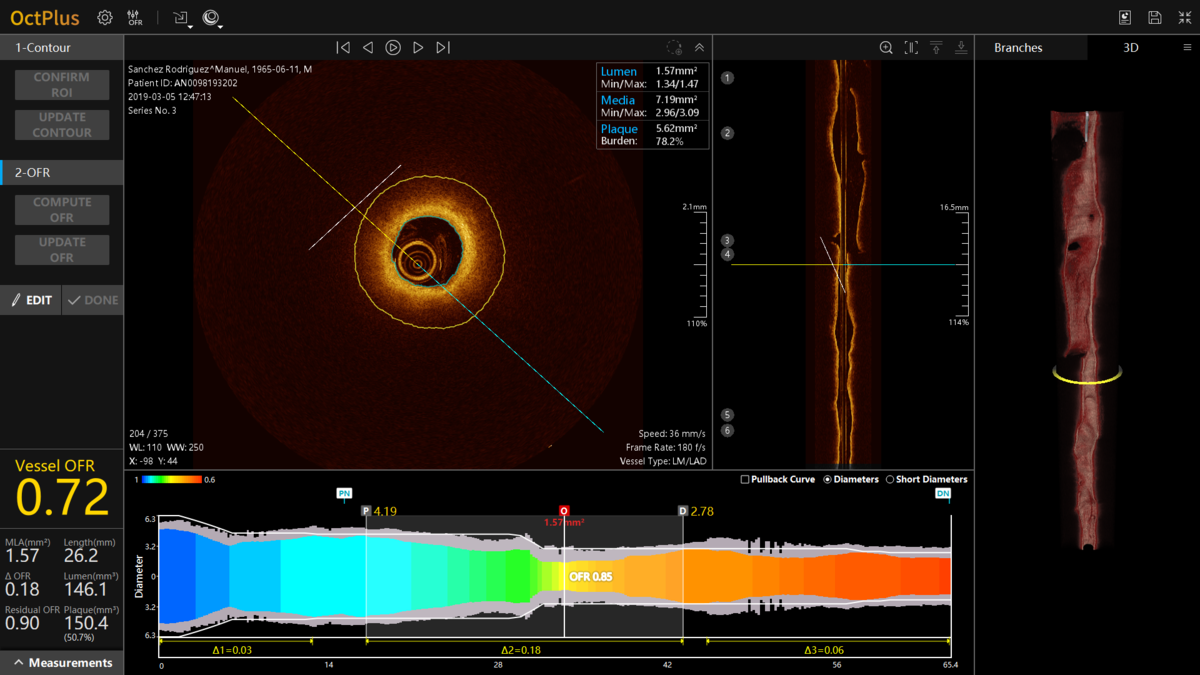 Based on OCT imaging and the Pulse proprietary QFR (quantitative flow ratio) algorithm, OFR, a OCT based FFR, could be derived without the use of pressure wire or vasodilator within 1 minute. The analysis results produced from OFR software include structural morphology assessment and physiological assessment, such as automatic lumen delineation and side branch quantification, stent strut reconstruction and quantification, OCT based FFR calculation and plaque characterization.
OFR, the OCT-based morpho-functional evaluation method, could save procedure time and costs, whilst being instrumental in overcoming the reimbursement constraints that are preventing the widespread use of both imaging and physiology for PCI guidance.
[1] Emori H, Kubo T, Shiono Y, et al. Comparison of Optical FlowRatio and Fractional Flow Ratio in Stent-Treated Arteries Immediately After Percutaneous Coronary Intervention. Circ J. 2020 Nov 25;84(12):2253-2258. doi: 10.1253/circj.CJ-20-0661. 
[2] Gutiérrez-Chico JL, Chen Y, Yu W, et al. Diagnostic accuracy and reproducibility of optical flow ratio for functional evaluation of coronary stenosis in a prospective series. Cardiol J. 2020;27(4):350-361. doi: 10.5603/CJ.a2020.0071 
[3] Huang J, Emori H, Ding D,et al. Diagnostic performance of intracoronary optical coherence tomography-based versus angiography-based fractional flow reserve for the evaluation of coronary lesions. EuroIntervention. 2020 Sep 18;16(7):568-576. doi: 10.4244/EIJ-D-19-01034 
[4] Yu W, Huang J, Jia D, et al. Diagnostic accuracy of intracoronary optical coherence tomography-derived fractional flow reserve for assessment of coronary stenosis severity. EuroIntervention. 2019 Jun 20;15(2):189-197. doi: 10.4244/EIJ-D-19-00182 
[5] Tian F, Yu W, Huang J, et al. First Presentation of Integration of Intravascular Optical Coherence Tomography and Computational Fractional Flow Reserve. Int J Cardiovasc Imaging. 2019 Apr;35(4):601-602. doi: 10.1007/s10554-018-1491-1 
[6] Ding D, Yu W, Tauzin H, et al. Optical Flow Ratio for Assessing Stenting Result and Physiological Significance of Residual Disease. EuroIntervention. 2021 Jun 8:EIJ-D-21-00185. doi: 10.4244/EIJ-D-21-00185  
[7] Tu S, Westra J, Adjedj J, et al. Fractional flow reserve in clinical practice: from wire-based invasive measurement to image-based computation. Eur Heart J. 2020 Sep 7;41(34):3271-3279. doi: 10.1093/eurheartj/ehz918 
[8] Ding D, Huang J, Westra J, et al. Immediate post-procedural functional assessment of percutaneous coronary intervention: current evidence and future directions. Eur Heart J. 2021 Jul 15;42(27):2695-2707. doi: 10.1093/eurheartj/ehab186
[9] PCR-EAPCI TEXTBOOK: Julien Adjedj, et al. Computational non-invasive physiological assessment of coronary disease. Computational non-invasive physiological assessment of coronary disease. 2019. VOLUME I, PART II.