China FDA (NMPA) approval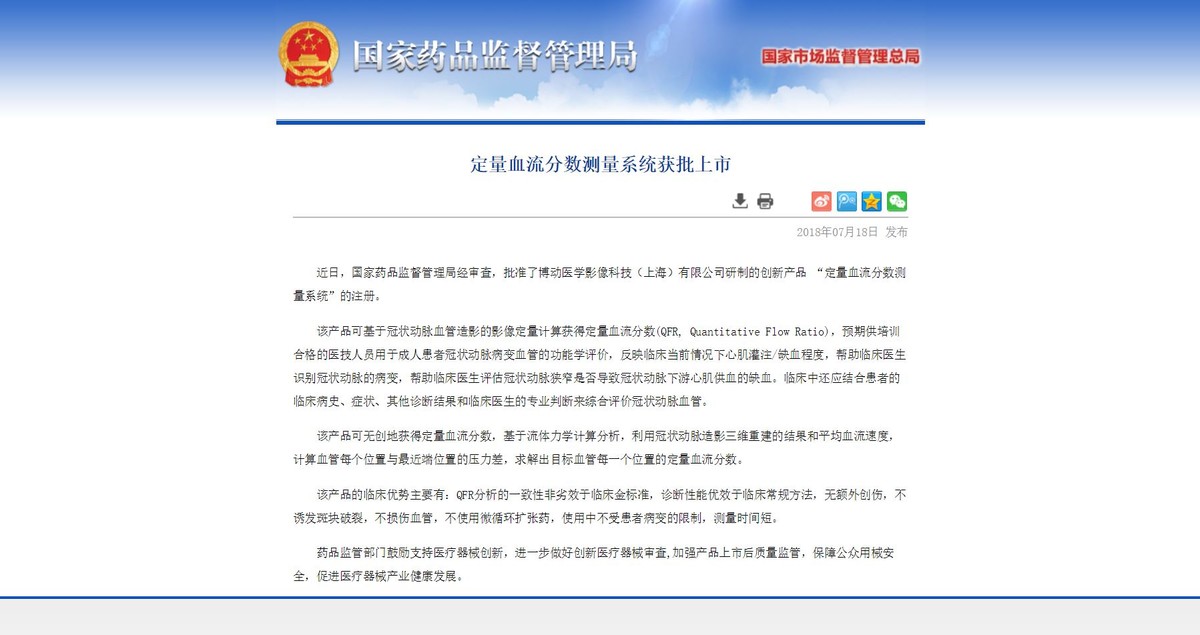 In July 18th 2018, the official website of China Food and Drug Administration (CFDA) released the news that PULSE's innovative product, quantitative flow ratio measurement system, was approved as a class III medical device. It is the first wire-free fractional flow reserve (FFR) measurement system cleared by CFDA. It represents the start of a new era of non-invasive and accurate coronary functional evaluation.
The original announcement is as follows:
Recently, after examination and review, China Food and Drug Administration (CFDA) approved the registration of the " quantitative flow ratio measurement system ", an innovative product developed by Pulse Medical Imaging Technology (Shanghai) Co., Ltd.
The product is able to compute the quantitative flow ratio based on the X-ray coronary arterial angiography. It is expected that the device will be operated by well-trained medical technicians to conduct functional evaluation of diseased coronary artery in adult patients, reflecting the degree of myocardial perfusion and ischemia under that current clinical situation, helping clinicians to identify coronary artery disease and to assess whether the coronary stenosis causes myocardial ischemia in the downstream of lesion. Clinically, coronary artery evaluation should also be combined with medical history, symptoms, other diagnostic results and clinician's professional judgement.
The product is able to obtain FFR result non-invasively. Based on the computational analysis of fluid mechanics, the system uses the three-dimensional reconstruction of coronary angiography and the mean blood flow velocity, then the pressure drop between every point of the blood vessel and the proximal point can be calculated. Finally, the quantitative flow ratio value of each position of the target vessel will also be presented.
The product has following main advantages: the consistency of the Quantitative Flow Ratio analysis is not inferior to the "gold standard"; the diagnostic performance is superior to the clinical routine method; no additional trauma; without induction of plaque rupture; no damage to blood vessels; no microcirculatory vasodilator, no limitation from the lesion type; short time of measurement.
CFDA encourages and supports the innovation of medical devices. We will devote more efforts to the examination of innovative medical devices, the post-marketing quality supervision of all products, the safety of the public and the sound development of the medical device industry.
The original link: http://cnda.cfda.gov.cn/WS04/CL2056/329620.html