Return to site
LANCET: Pulse QFR guided PCI resulted in a 35% reduction of MACE at one year follow-up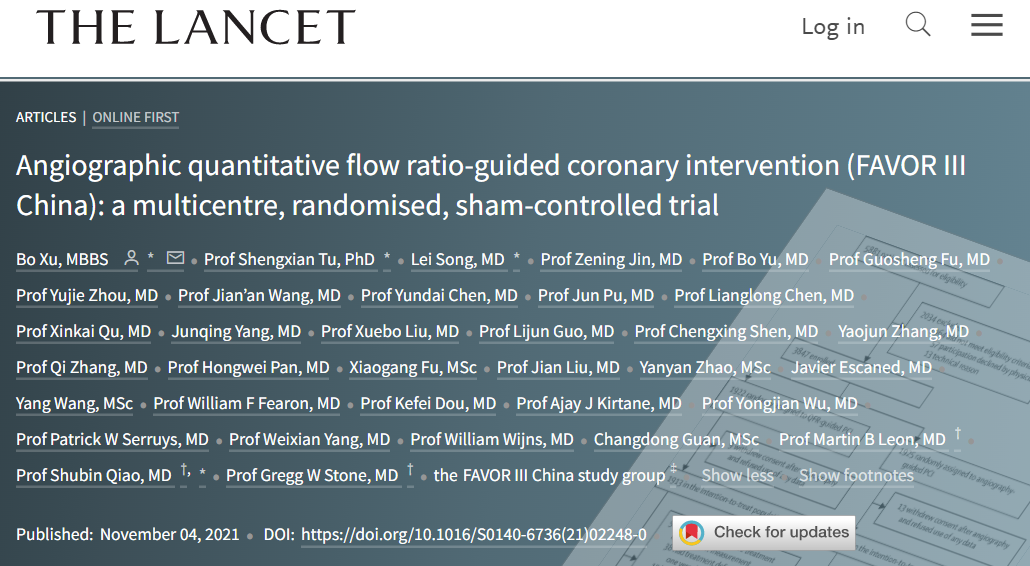 On November 4, 2021, The findings of FAVOR III China were published in The Lacent(Impact Factor: 79.3), one of the world's top medical journals. At the same day, Prof. Bo Xu (Fuwai Hospital, Beijing, China) also presented the results at the Late-Breaking Clinical Trial (LBCT) at TCT annual meeting.  
Compared with angiography-guided PCI, using core QFR algorithm from Pulse Medical to guide PCI results in a 35% risk reduction of MACE at 1-year follow up, the FAVOR III China study finds. 
QFR is the now the first and only angiography-derived FFR technique has outcome data from RCTs, it is recognized worldwide and potentially to be the "new standard" of coronary physiology. 
 Presentation of FAVOR III China in TCT 2021 by Prof. Bo Xu, Fuwai Hospital, China
FAVOR III China was initiated and sponsored by Fuwai Hospital, Chinese Academy of Medical Sciences, Beijing, China, with the primary investigators of Prof. Shubin Qiao and Prof. Bo Xu. With 3847 patients with stable or unstable CAD enrolled at 26 tie-one hospitals in China, the 1-year clinical outcome were compared between QFR-guided PCI group and angiography-guided group. 
The main finding was that QFR guidance resulted in a 35% risk reduction in the 1-year rate of MACE (composite of death from any cause, myocardial infarction, or ischemia driven revascularization), compared with standard angiography-guided approach. The benefit was driven mainly by 40.4% reduction of post-PCI MI and 35.5% reduction of ischemia-driven revascularization. Of note, QFR could identify patients actually need PCI, and changed the planned strategy in nearly one-quarter of patients, mainly due to treatment deferral (19.6% in QFR-guided arm vs. 5.2% in angiography-guided arm) and unplanned treatment of vessel not originally intended for PCI (4.4% in QFR-guided arm vs. 1.5% in angiography-guided arm). As a result of greater rate treatment deferral by QFR, fewer PCI performed, fewer stents implanted and less contrast media used in QFR-guided group, with shorter X-ray exposure and procedure times.
Compared with the wire-based coronary physiology (FFR), which is recommended by the 2018 ESC guideline to be used in PCI strategy determination, QFR is more suitable for routine application, due to the non-invasive, simplicity and safety of QFR.  
In the editorial comments published in The Lancet along with the FAVOR III China study, Prof. Robert A. Byrne and Prof. Laurna McGovern (both from Mater Private Hospital, Dublin, Ireland), the results of FAVOR III China are important landmark in the investigation and treatment of patients with obstructive coronary artery disease. The use of QFR in routine will promote the decision making in PCI continues to move away from assessment based on anatomical stenosis severity alone.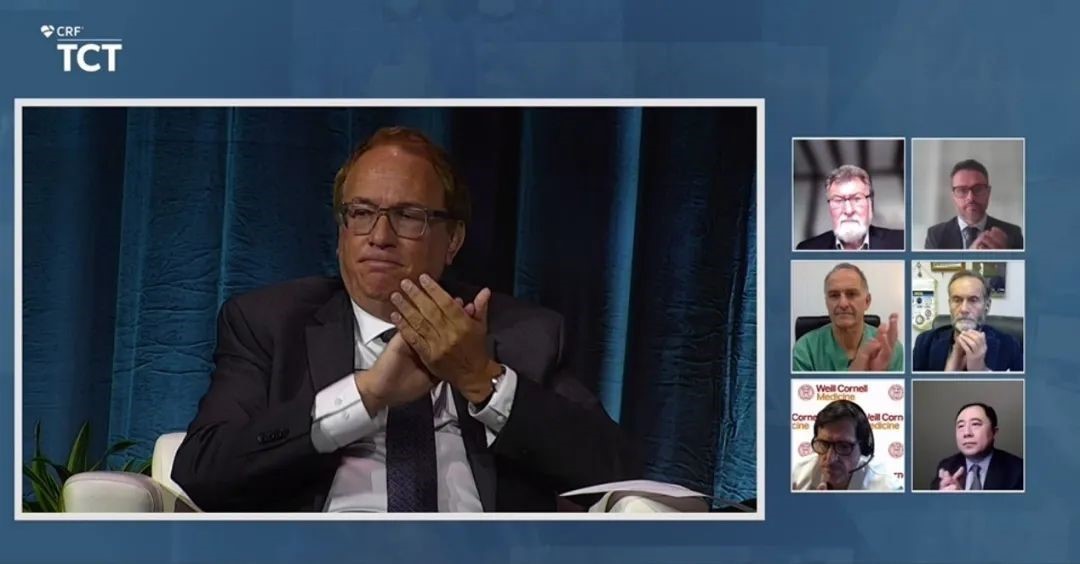 Comments from Prof. GreggStone at TCT 2021
Gregg W. Stone, MD (Icahn School of Medicine at Mount Sinai, New York, NY) referred that "FAVOR III China is the largest RCT inthe field of coronary physiology world wide. QFR is an exciting technique, free of wire and hyperemia, and could be widely used routinely worldwide." 
In a press conference prior to the presentation, Giuseppe Tarantini, MD, PhD (University of Padua, Italy) commented that he wouldn't be surprise to see QFR added to the next practice guideline. "The simplicity and safety of wire-free QFR compared with wire-based physiologic measurements should facilitate the adoption of physiologic lesion assessment into routine clinical practice." Commented by Prof. Bo Xu.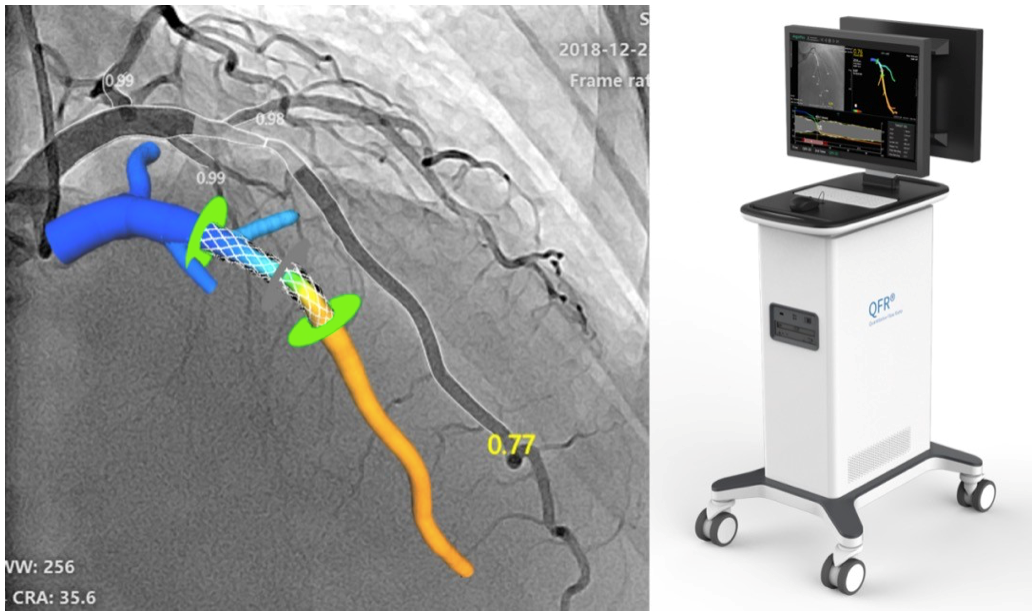 QFR is an angiography-based computational FFR that can be readily available after coronary angiography using reconstruction of coronary artery and analysis of vascular fluid dynamics. It can be used to identify the coronary stenosis that benefits from revascularization. 
The key QFR algorithm was developed by Shanghai Pulse Medical Technology Co., Ltd and validated in many studies worldwide. 
The new generation of QFR (also named μFR) has also been developed and commercialized by Pulse Medical Imaging Technology (Shanghai) Co., Ltd. The validation showed that μFR can be computed using a single angiographic projection and with high diagnostic accuracy.  This would improve tremendously the  feasibility and efficiency of QFR analysis, making QFR  more suitable to be adopted for routineuse in the cath-lab. 
Furthermore, μFR also allows analysis of bifurcation lesions which provides a unique evaluation of high risk patients for PCI.
2. Byrne RA, McGovern L. Angiography-derived quantitative flow ratio guidance of coronary intervention: measure twice, cutonce. Lancet. 2021;Epub ahead of print. 
3. Tu S, Ding D, Chang Y, Li C, Wijns W, Xu B. Diagnostic accuracy of quantitative flow ratio for assessment of coronary stenosis significance from a single angiographic view: A novel method based on bifurcation fractal law. Catheter Cardiovasc Interv. 2021 May 1;97 Suppl 2:1040-1047